A votre avis pourquoi le buffet Remix d'Hansen Family a reçu le prix du design Red Dot Award en 2011 ? Peut-être tout simplement parce que ce buffet à l'allure vintage et l'esprit scandinave nous rappelle le style rétro des années 50. C'est aussi la qualité de ce meuble qui est exceptionnelle : Réalisé en chêne massif, il est fabriqué artisanalement avec le soin du détail.
Hansen Family Remix : Un buffet scandinave au style rétro des années 50
Pour la petite histoire, les façades des tiroirs de ce buffet Remix sont directement  inspirées de la coque des bateaux scandinaves créés dans les années 1940 : les « Folkboat ». En plus de donner une personnalité unique à ce meuble, elle sont très pratique au quotidien car elle permettent  d'ouvrir les tiroirs facilement.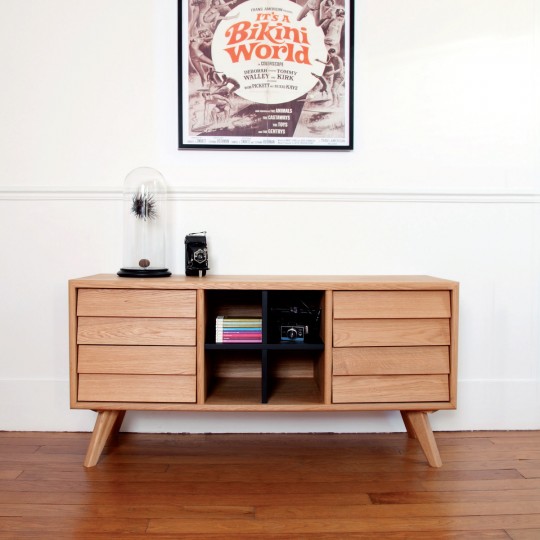 A noter également le détail unique de la croix en couleur formée par les tablettes en medium laqué du casier au centre du buffet. Elles sont d'ailleurs disponibles en différentes couleurs pour s'assortir au mieux avec votre décoration intérieure. Pour ma part, ma préférée est la bleu turquoise qui est à la fois sobre et rétro.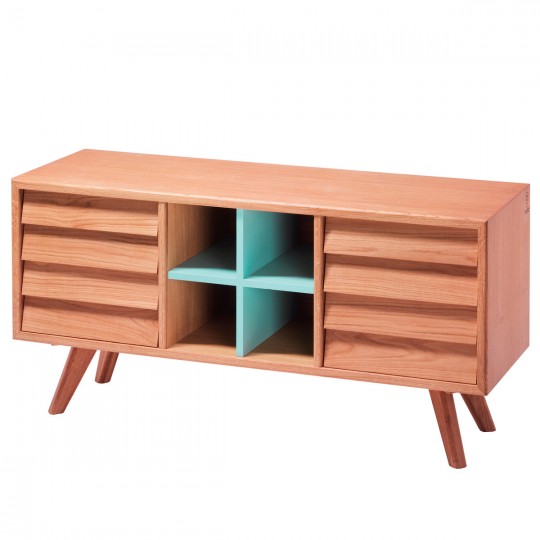 L'histoire de The Hansen Family
Née de l'histoire d'une famille scandinave de charpentiers, de designers et d'architectes, l'entreprise « The Hansen Family » dirigée par Gesa Hansen associe inspiration vintage, archives revisitées et design contemporain. Chaque pièce est unique, manufacturée selon un savoir faire familial et traditionnel, valorisant l'essence brute de matériaux nobles comme le chêne et le noyer. La production s'inscrit dans le respect de l'environnement, affirmant ainsi l'engagement du label dans une démarche de développement durable. Le bois est soigneusement sélectionné dans une forêt certifiée. Les arbres sont sélectionnés à la main pour chaque meuble fabriqué à la commande !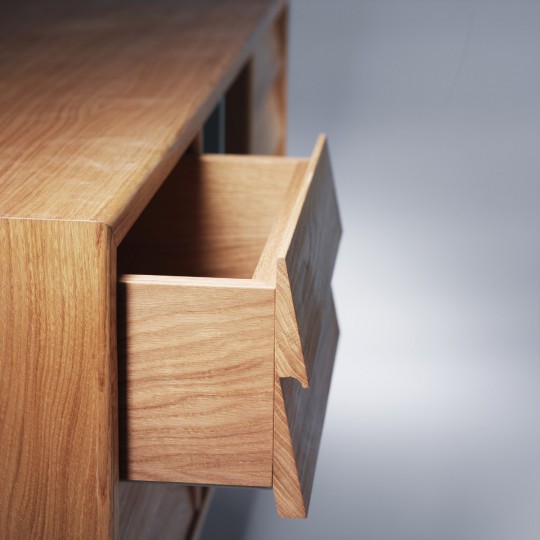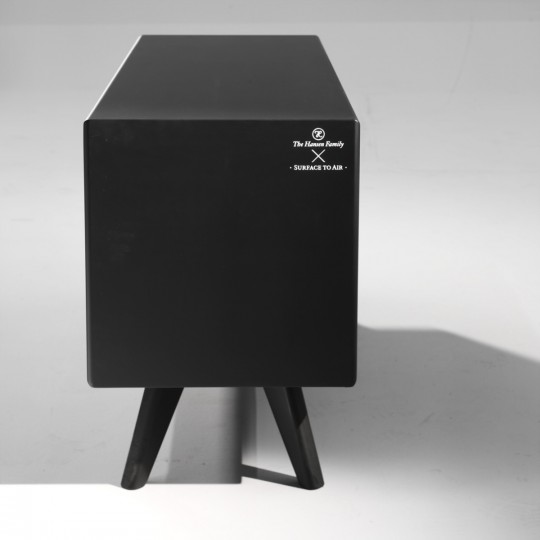 Quelques détails techniques sur le buffet Remix
Type de produit : Buffet

Couleur : Turquoise, Bois clair

Matière : Chêne massif issu de forêt certifiée – Etagères en croix en médium laqué mat

Dimensions : L 135 cm x Prof 45 cm x H 67 cm

Caractéristiques : 4 tiroirs au total (2 tiroirs de chaque côté) + 4 casiers colorés au centre – Fabriqué artisanalement – Red Dot Award 2011
Où acheter ce buffet Remix Hansen Family ?
Sur Made in design au prix de 2.090 euros