Marre de la déco old school de votre salle de bain ? Vous êtes prêt à faire chauffer la CB pour investir dans une salle de bain tendance ? Alors voici le must have du moment : une baignoire design encastrée dans le sol. Admettez que ça en jette :Oo Celles-ci sont éditées par la marque Kasch. Croyez-moi du cash il va vous en falloir pour obtenir une déco de cette qualité dans votre salle de bain ;)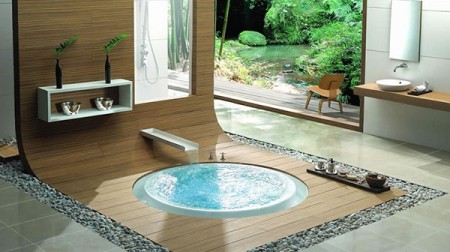 Le modèle ci-dessus est vraiment mon favori. Admirez l'intégration parfaite du sol en bois qui se prolonge sur le mur, sans oublier la baignoire balnéo ronde intégrée dans le sol. Ma-gni-fi-que ! Le petit détail qui tue trop ta mère : la découpe du mur vitrée qui donne une vision directe sur la douche.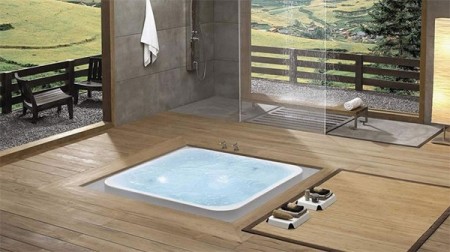 Ronde, carré, ovale, ou plus banalement rectangle, toutes les formes de baignoire encastrée sont proposées chez Kasch. A vous de choisir en fonction de vos goûts, de votre portefeuille et de vos envies !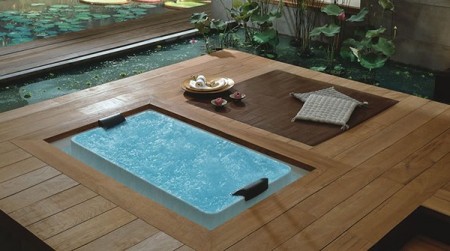 Pour un bain en amoureux, le must have est ce modèle de baignoire à débordement dans laquelle vous pouvez vous baigner face à face (appui-tête offert).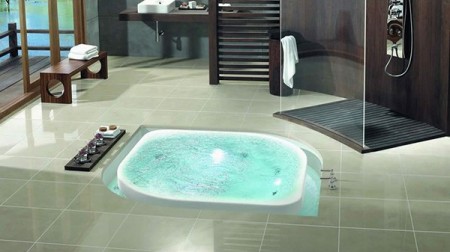 Plus d'informations sur la tendance déco des baignoires encastrées dans le sol
Les baignoires présentées sur ces photos sont commercialisées par la marque Kasch